At first sight of Pika Pika Rain bottle, "Wow, is this enough for a car? Too small… "I was worried.
Liquid spread very well, but I applied too much first so the roof has not been applied yet.
3 days after, the gloss became stronger than soon after the application.
I was so so surprised at seeing great hydrophobic effect! I am pouring water on my car in movie.
Cleaning up the car became quite easy! Only by wiping off! I am so happy to see my car like brand new!
I bought Super Pika Pika Rain and Nano Pika Pika Rain and applied on my new car.
I would like to report my experience.
My mitake was that I didn't wash my car as I thought it's clean enough because it's brand new.
I coated dust together.
Also I used Nano Pika Pika Rain detailing spray when it's windy.
However as you can see on the photos, my car is shiny. (if I asked a car dealer, it costs USD470.00)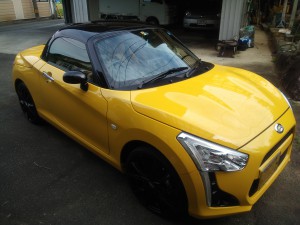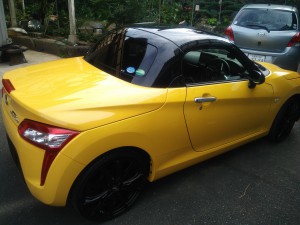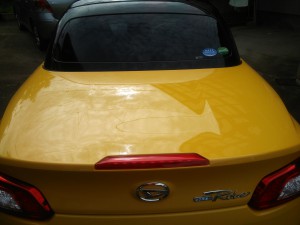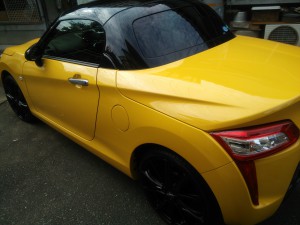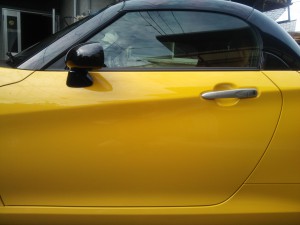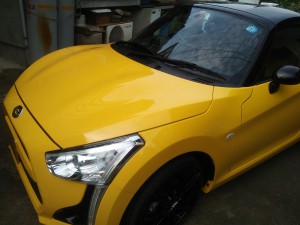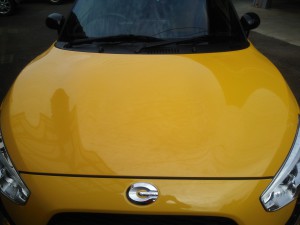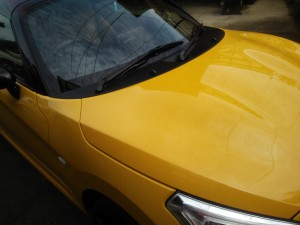 After 2 weeks when the coating is fully cured I will polish with ultra-fine compound.
As my car is yellow, mistakes are hardly seen but if your car is dark color, you should be careful.
This time regardless of my mistakes, the finish is brilliant and I'm happy.
Daihatsu Copen outer panel is made of resin but no problem to use Pika Pika Rain!